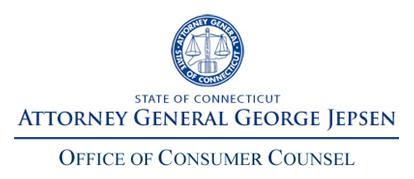 ATTORNEY GENERAL, CONSUMER COUNSEL ASK REGULATORS
TO CLARIFY SCOPE OF STORM-RELATED REVIEW
(HARTFORD) – Attorney General George Jepsen and Consumer Counsel Elin Swanson Katz have asked state utility regulators to clarify the scope of its investigation and the procedures for review of storm-related service interruptions by public service companies.
In a motion filed Friday, the Attorney General and Consumer Counsel said the Public Utilities Regulatory Authority should make clear that they are investigating not only the preparedness and response by the state's electric utilities, Connecticut Light & Power Co. and United Illuminating Co., but also the state's telecommunications, natural gas and water utility companies during Tropical Storm Irene and the Oct. 29 snowstorm.
The Attorney General and Consumer Counsel also asked the regulators to confirm that this investigation would be handled as a full administrative proceeding, with evidentiary hearings and the opportunity to submit questions, seek documents and cross-examine witnesses. All correspondence from the public service companies should be made part of the docket, they said.
"The people and businesses of Connecticut experienced hardship, in some cases extreme hardship, because of these storms and resulting service interruptions. They deserve answers about what happened and what is being done to make sure it does not happen again," Attorney General Jepsen said.
Consumer Counsel Elin Swanson Katz said the hearing process would help to identify "what improvements are needed and to what extent outages lasted longer than reasonably necessary. It is only through robust hearing processes at PURA, including an ample opportunity to cross-examine utility witnesses, that we will be able to achieve clarity on these issues. PURA should provide us with reassurance that the hearing process will be appropriately broad and intensive."
In separate filings Friday, the Attorney General directed dozens of questions at CL&P and UI, requesting information and supporting documents about the utilities' communications with and management of line crews, including those brought in from out of state, and compensation arrangements, including any limits to overtime.
The Attorney General also asked for information and documentation about the utilities' communications with local officials, changes to their action plans after Tropical Storm Irene, their budgets for and work completed on trimming trees and managing vegetation along distribution lines; damage to transmission equipment; their timeline of storm preparations and their efforts to track and prioritize service restorations.
The Office of Consumer Counsel has also asked detailed questions of both the electric companies and the telephone companies in PURA's storm review proceeding. OCC is in the process of hiring expert consultants to supplement its staff expertise to help craft further questions, evaluate responses and develop recommendations. OCC has provided testimony in legislative hearings regarding Storm Irene response.
Assistant Attorneys General Michael C. Wertheimer and John S. Wright are handling this matter for the Attorney General with Associate Attorney General Joseph Rubin. In addition to the Consumer Counsel, OCC's team will include Attorneys Victoria Hackett and Joseph Rosenthal, Supervisor of Technical Analysts Richard Sobolewski among other staff and consultants.
###
Attorney General Media Contact:
Susan E. Kinsman
860-808-5324 (office)
860-478-9581 (cell)
Office of Consumer Counsel Media Contact:
Elin S. Katz
860-827-2901
Consumer Inquiries:
860-808-5318
Facebook: Attorney General George Jepsen
Twitter: @AGJepsen