STATE OF CONNECTICUT
Department of Public Safety
1111 Country Club Road
Middletown, Connecticut 06457

Contact:

FOR IMMEDIATE RELEASE

October 12, 2011
STATE TROOPERS SEEK PUBLIC'S HELP
On 9/29/11 State Troopers from Troop L-Litchfield received a complaint of a larceny of a wallet and credit cards from behind a counter at a store in Kent.
State Troopers responded to the scene and initiated a criminal investigation. During the investigation, Troopers determined that the stolen credit cards were taken from the wallet and the wallet was discarded. Further investigation indicated that the credit cards had been used at Wal-Mart in New Milford and numerous gas stations in the New Milford and Brookfield area.
Area police agencies have been advised of this theft. Troopers have located security surveillance video footage of the possible suspect, and witnesses were able to provide specific details regarding this larceny. See photo of suspect.
Anyone with information, or anyone that can identify the suspect, is asked to please contact Trooper Matt Eagleston at 860-626-7900.
All calls will be kept confidential.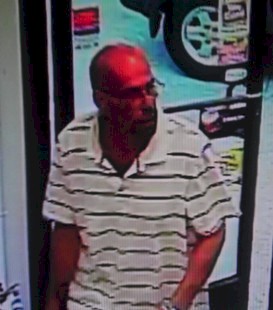 ###END###
Lt. J. Paul Vance