STATE OF CONNECTICUT
Department of Public Safety
1111 Country Club Road
Middletown, Connecticut 06457

Contact:

FOR IMMEDIATE RELEASE
August 19, 2011
STATE POLICE INVESTIGATE IDENTITY THEFT CASE; SEEK PUBLIC'S HELP
The Connecticut State Police Western District Major Crime Squad Detectives are conducting a criminal investigation into the identity theft of a Burlington resident. A female suspect has utilized the personal information of the Burlington resident to open several bogus charge accounts. These accounts were opened from August 1 through August 6, 2011, using the name and other personal information of the victim. Troopers have developed investigative leads in this case leading to a female suspect.
Connecticut State Police are seeking the public's help in identifying the female suspect shown in the photos. This female is a suspect in this identity theft and larceny investigation. The photographs shown were captured at a Target Store in New Britain on August 2, 2011. The female suspect used a bogus credit card to purchase numerous items. Troopers have developed investigative leads in this case leading to a female suspect.
The suspect female was seen departing the Target store parking lot on August 2nd in the green Jeep Cherokee shown above. It appears that there are several stickers on the rear hatch of the vehicle. Numerous transactions with bogus credit cards have been identified by Troopers in Connecticut and New York.
Connecticut State Police are attempting to identify the female suspect in this photo. It appears that the female may have a tattoo on her upper pectoral area, and there are also stickers on the Jeep vehicle. The stickers may make the vehicle unique and identifiable.
Anyone who may know the identification of this female suspect or who may recognize the suspect vehicle is asked to contact Connecticut State Police Troop L at (860) 626-7900. All calls will be kept confidential.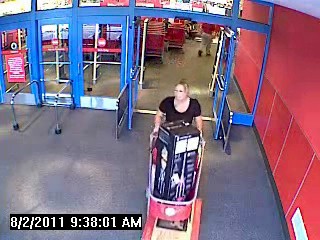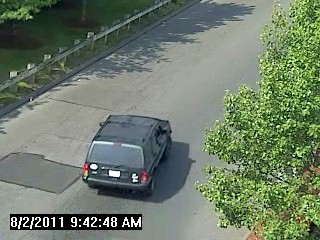 ###END###
Lt. J. Paul Vance
Connecticut
State
Police
Public Information Office
Your Help Needed
The Connecticut State Police frequently relies on the general public for help in solving criminal cases. If you have witnessed a crime or if you have information that might help detectives solve a case, we would like to hear from you.

If you can help the CT State Police solve a crime, please call our 24 hour line
(860) 685-8190, or our toll free line at 800-842-0200 (in-state only).
Or if you choose you can Text a Tip-

HOW?: by using your cell phone you can (anonymously) text a message with a tip or information to the CT State Police.
Text "
TIP711
plus your message" to CRIMES (274637)

This is strictly a system set up for the public to send tips via text messaging to
the police

text messaging to the police anonymously.

THIS IS NOT TO BE USED TO REPORT CRIMES

OR

TO BE USED FOR REPORTING EMERGENCIES
FOR EMERGENCIES CALL 911