STATE OF CONNECTICUT
Department of Public Safety
1111 Country Club Road
Middletown, Connecticut 06457

Contact:

FOR IMMEDIATE RELEASE
November 4, 2011
** UPDATE **
STATE POLICE INVESTIGATE BANK ROBBERY IN DAYVILLE
On Friday, November 4, 2011, at approximately 11:50 a.m., the Quinebaug Valley 911 Center received a 911 call from personnel at the First Niagara Bank, 1078 North Main Street, Dayville, reporting a bank robbery.
Troopers from Troop D responded to the bank and the surrounding area in search of the suspect. Detectives from the Eastern District Major Crime Squad responded to conduct the investigation and process the scene.
Troopers learned that at about 11:50 a.m., a white male subject, approximate age 20s, wearing a thigh-length, olive green winter coat, black pants, work boots and a blue ball cap with NY on it entered the bank. He waited for an available teller and approached her. The subject handed the teller a note demanding the money and threatening that he had a firearm. The teller handed the subject an undisclosed amount of cash. The subject then fled the scene in an easterly direction across the plaza. Bank surveillance captured images of the suspect from the robbery.
Detectives learned that the bank robbery suspect fled from the bank to the area of the Yamoto Steak House and Cumberland Farms Store on Route 101 in Dayville, possibly to an awaiting vehicle.
State Police are asking anyone who was at the Cumberland Farms or Yamoto Steak House on November 4, 2011, at around 11:50 AM to contact Detectives at (860) 779-4900.
Photos of the suspect from the scene: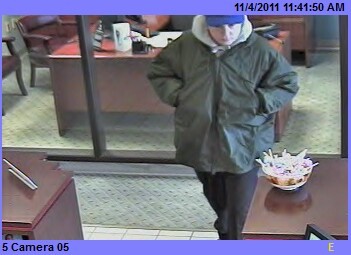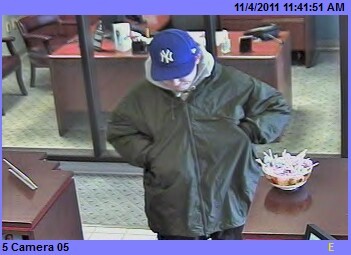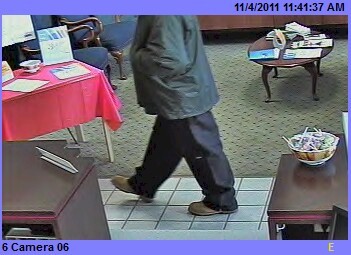 ###END###
Lt. J. Paul Vance
Connecticut
State
Police
Public Information Office
Your Help Needed
The Connecticut State Police frequently relies on the general public for help in solving criminal cases. If you have witnessed a crime or if you have information that might help detectives solve a case, we would like to hear from you.

If you can help the CT State Police solve a crime, please call our 24 hour line
(860) 685-8190, or our toll free line at 800-842-0200 (in-state only).
Or if you choose you can Text a Tip-

HOW?: by using your cell phone you can (anonymously) text a message with a tip or information to the CT State Police.
Text "
TIP711
plus your message" to CRIMES (274637)

This is strictly a system set up for the public to send tips via text messaging to
the police

text messaging to the police anonymously.

THIS IS NOT TO BE USED TO REPORT CRIMES

OR

TO BE USED FOR REPORTING EMERGENCIES
FOR EMERGENCIES CALL 911