Welcome
Burr Pond State Park
Torrington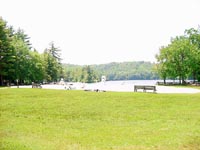 Go swimming and have a picnic at Burr Pond, then hike the trails and learn about the history of Borden's Condensed Milk.
ATTENTION BURR POND STATE PARK VISITORS:
NO ALCOHOL ALLOWED
Parking at Burr Pond is very limited. Once capacity is reached, the park is closed, and may remain closed for several hours. Please note there is no alternative parking, and cars parking or unloading on local roads and parking lots will be ticketed and/or towed.
PLEASE NOTE:
For current water quality alerts for this park, please visit www.ct.gov/deep/beachstatus
The possession and consumption of alcoholic beverages is prohibited.

Content updated April 2023