CT Fire Academy Directions & Lodging
Connecticut Fire Academy, 34 Perimeter Road, Windsor Locks, CT
(860) 627-6363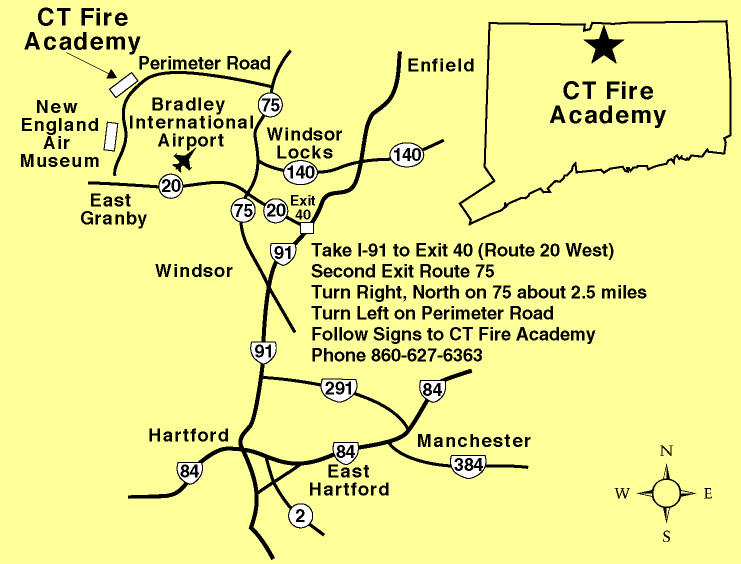 Directions to CT Fire Academy, Perimeter Road, Windsor Locks are:
I-91 north or south to exit 40 (Route 20, Bradley Connector). Follow Route 20 west 1.7 miles to the exit for Route 75. Take a right off the exit onto Route 75 North and follow 2.5 miles. Take a left onto Perimeter Road (see sign for the CT Fire Academy and the New England Air Museum). Continue 1.4 miles to the Academy which will be on your right.
Parking is available at the rear of the building. Access to the building is also located at the back of the building. There is a sidewalk located in the center of the building, this door is unlocked between 7:30am - 4:30pm.
GPS/Satellite Coordinates
The coordinates are: [ 41.946183, -72.686586 ]
If you are using Google Earth or other programs that require standard measurements, use:
[ N 41? 56'.96" by W 72? 41' 9.24" ].
Lodging at the Connecticut Fire Academy
Effective July 1, 2010 the Commission on Fire Prevention and Control is no longer utilizing a contracted answering service to handle Connecticut Fire Academy dormitory reservations. Students requiring lodging for a confirmed training program or event at the Connecticut Fire Academy may reserve a room by calling (860) 264-9231 during normal business hours (8:30 am – 4:30 pm) Monday through Friday. Lodging availability is at the discretion of the agency based upon evening staffing resources. Reservations are generally available on a first-come, first-served basis when calling the Academy, with a minimum 72 hour advanced reservation (some exceptions may apply). Each Dormitory room is equipped with a private bath; bed linens and towels are provided however guests are welcome to bring their own pillow and linens/sleeping bag to make their stay more comfortable. Free wireless internet is provided throughout the facility and a student lounge with television, commercial refrigerator and microwave is available to all guests. Shared commercial laundry equipment is available for resident use as well. In addition, there is a fully equipped work-out facility open 24-hours.
| | |
| --- | --- |
| Lodging - Single Occupancy | Daily Rate |
| *Governmental/Municipal (In-state) | $20.00 |
| *Private Business/Industry/Out-of-State | $30.00 |
* Full payment is required at check-in by Money Order, check or credit card.
Guest check-in times are:
Weekdays anytime before 4:00 p.m. or after 6:00 p.m.
Weekends as noted upon confirmation of your reservation.
Local Accommodations
In addition to the Academy's dormitory rooms, a number of hotels, motels and inns are located along Route 75 in Windsor Locks, CT. Click HERE for a list. A credit card or purchase order number will be required to reserve a room.
Food Services
The Academy's food service vendor has changed; it is now Lessing's Food Service. Lessing's is a leader in the food service industry with over 120 years of experience. Lessing's has the resources and experience to accommodate any food service needs. Lessing's professionally trained chef will provide your group with a delicious and nutritious culinary experience. For information contact: 860-627-6363 ext. 248.