Welcome
Silver Sands State Park
Milford
Please note: Silver Sands Parkway and portions of the parking lots are getting repaved. Work began Monday, April 25, 2022 and may last 10 days. There may be access and parking limitations for the duration of the project. The Park will be closed on: Wed 4/27/22, Mon 5/2/22, and Tues, 5/3/22.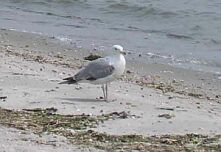 Sandy beaches, boardwalks, seashells, and shore birds dominate the attraction to Silver Sands' beaches in Milford. Over a half mile of shoreline and three quarters of a mile of all-weather boardwalk make this a popular four-season waterfront destination.
For current water quality alerts for this park, please visit www.ct.gov/deep/beachstatus
The sandbar (also known as a tombolo) between Silver Sands State Park and Charles Island overwashes twice daily with tidal flooding, which produces dangerous currents and undertow.

No one should walk on any portion of the tombolo when it is covered with water. No crossing to the Island is allowed May 1 through September 9 when the island is managed as a Natural Area Preserve for nesting birds.
This property was acquired and/or developed with the assistance of the Land and Water Conservation Fund.


Content last updated May 2022