Welcome
Kent Falls State Park
Kent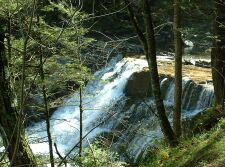 Wander across the covered bridge, hike the falls, and feel the mist on your face as water cascades 250' down on its way to joining the Housatonic River.
PARKING AT KENT FALLS: When the parking lot has reached capacity, the park is closed. It will reopen when the lot has 10 available spaces. Please note that there is no alternative parking and the park may be closed for several hours once full.
ATTENTION KENT FALLS STATE PARK VISITORS:
Unmanned aircraft (Drones) are not allowed in
Connecticut State Parks
The following rules are in effect and strictly enforced:
ENTRY INTO WATER IS PROHIBITED
NO ALCOHOL ALLOWED
Parking fees for out of state vehicles will be charged.
Please plan your visit accordingly.

Content last updated April 2023