Welcome
Housatonic Meadows State Park
Sharon
The Department of Energy and Environmental Protection held a virtual public meeting regarding the hazard tree removal at Housatonic Meadows State Park on January 6, 2022. Below are the presentation and unofficial transcript links.

Housatonic Meadows State Park Virtual Public Meeting Presentation January 6, 2022

Meeting Recording and Unofficial Transcript
(Disclaimer: This is an unofficial transcript. This unofficial transcript is computer-generated by Zoom and may contain typos that have not been edited.)
As was explained in the meeting, DEEP conducts a program to mitigate risks to the public from hazard trees in order to provide for public safety at our parks and other properties. DEEP is planning to continue moving forward with the hazard tree removal project at Housatonic Meadows State Park per the plan that was presented by Forestry in the virtual public meeting. The local community should expect the hazard tree removal project to continue in the near future.

We are actively working to identify best practices to communicate and improve our hazard tree removal process, and look forward to updating the public on our progress. We will be reaching out to local partner organizations in the next few weeks to provide updates on improvements to our process and communication and to set up meetings to discuss park enhancements.
Important Public Safety Message Concerning Ongoing Hazard Tree Work and Road Closure

Visitors will notice some recent changes to the park related to ongoing hazard tree work. There is a temporary closure of a portion of the park's interior road, with new signage and snow fencing in place.

The temporary road closure, signage and fencing are designed to the keep the public at a distance from hazard trees, both those trees already cut and on the ground, and those trees which are still standing, as of now, but have been marked for ongoing tree removal. Visitors are urged to observe the signage and remain at a safe distance from the hazard trees. The public is prohibited from entering the fenced off areas.

The public is still welcome to park in the parking lot and use other areas of the park.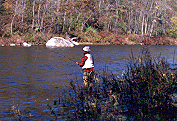 Camping along the riverbank at Housatonic Meadows evokes a genuine back-to-nature feeling. The clear, cold river water also provides a fine opportunity for fly fishermen to test their skills on trout and bass.
There is a permanent alcohol ban at Housatonic State Park. Please do not bring alcoholic beverages and plan your visit accordingly.

Content last updated January 2022