Welcome
Black Rock State Park
Visitors to Black Rock State Park this summer will see the construction activity for the new DEEP Western District Headquarters and Black Rock State Park Visitor Contact Station. Access to a small area of the park will be limited on or around Wednesday, May 31, 2023. The road to the beach will be affected. More information about this important and exciting project can be found here.
Watertown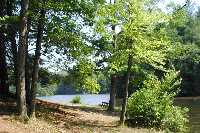 Black Rock offers excellent swimming, hiking, scenic views, and Indian legend all tucked into the scenic rolling hills of the Western Highlands.
PLEASE NOTE:
For current water quality alerts for this park, please visit www.ct.gov/deep/beachstatus
This property was acquired and/or developed with the assistance of the Land and Water Conservation Fund.


Content last updated May 2023