FOR IMMEDIATE RELEASE Connecticut Department of Public Health
March 16, 2009 Contact: William Gerrish
(860) 509-7270
Hartford – The Connecticut Department of Public Health (DPH) today announced that the head of its stem cell program witnessed the signing of the Presidential Order removing barriers to responsible scientific research involving human stem cells at the White House last week.
Warren Wollschlager, chief of the department's Office of Research and Development - which oversees Connecticut's stem cell program - was invited to attend the presidential ceremony in the East Room of the White House. He sat directly across from President Barack Obama and directly behind Speaker of the House Nancy Pelosi when the president signed the Executive Order.
"Connecticut is recognized as a national leader in stem cell research and Mr. Wollschlager has been the driving force behind the state's stem cell research program," stated DPH Commissioner Dr. J. Robert Galvin. "Our success is due in large measure to Mr. Wollschlager's vision and leadership in developing and implementing this important program."
Only eight states -- California, Connecticut, Illinois, Iowa, Maryland, Massachusetts, New Jersey and New York -- have passed programs authorizing spending on embryonic stem cell research since 2001. Public Act 05-149, "An Act Permitting Stem Cell Research and Banning the Cloning of Human Beings" was approved by the Connecticut General Assembly of the State of Connecticut and signed into law by Governor M. Jodi Rell on June 15, 2005.
The act established a competitive process for awarding state stem cell research grants and created the publicly appointed Stem Cell Research Advisory Committee (SCRAC), chaired by Commissioner Galvin, to review applications for the state funds and distribute available dollars. Connecticut was just the third state in the nation, behind only California and New Jersey, to provide public funding in support of embryonic and human adult stem cell research.
The act provided for the allocation of $100 million through June 30, 2015 for the purpose of grants-in-aid for conducting embryonic or human adult stem cell research. To date, the State of Connecticut has allocated a total of $29.62 million in support of embryonic stem cell researchers at the University of Connecticut, Yale University, and Wesleyan University.
Mr. Wollschlager, a native of Meriden and a resident of Rhode Island, is also the founding chairman of the Interstate Alliance for Stem Cell Research (IASCR). The IASCR is a voluntary body whose mission is to advance stem cell research (human embryonic, adult, and other) by fostering effective interstate collaboration, by assisting states in developing research programs, and by promoting efficient and responsible use of public funds.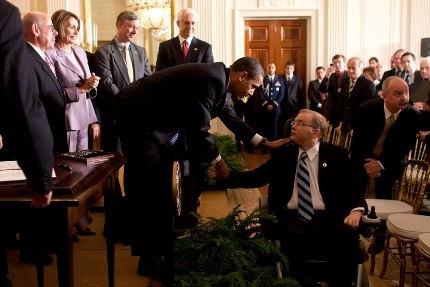 Surrounded by a group comprised of 30 members of Congress and 10 Nobel Laureates, President Barack Obama offers remarks and then signs the Stem Cell Executive Order and Presidential Memorandum on Scientific Integrity in the East Room of the White House on Monday, March 9, 2009. Mr. Wollschlager is seated center to the right. (White House Photo by Chuck Kennedy.)
The Connecticut Department of Public Health is the state's leader in public health policy and advocacy with a mission to protect and promote the health and safety of the people of our state. To contact the department, please visit its website at www.ct.gov/dph or call (860) 509-7270.
###