Directions

From I-91 North or South and from East of the River:

In Hartford take I-84 westbound. Exit at Asylum Street, exit 48.
At the signal at the bottom of the ramp, make a gradual right, staying to the left of the fork in the road.
At the first light, take an immediate left onto Broad Street.
Travel on Broad Street to the light at the first four-way intersection; take a right onto Capitol Avenue. OHCA (tan brick building a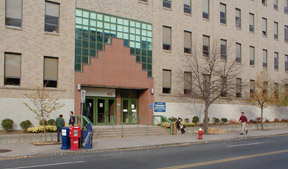 t 410 Capitol Avenue) is two blocks down on the right.

* Pass 410 and enter in the driveway between 410 and 450 Capitol Avenue. Turn right into the parking lot behind the building and proceed to the Security building in the lot. You will be directed to available parking.

From the West:
Take I-84 East to Capitol Avenue, Exit 48B. Bear right on the exit ramp. At the end of the ramp, turn right onto Capitol Avenue. OHCA is 3 blocks down on the right (tan brick building at 410 Capitol Avenue).

Proceed from * above.