Flag-Style Veteran Plate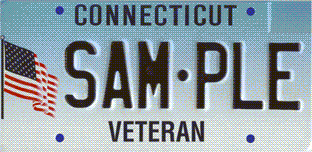 The Connecticut Department of Motor Vehicles is now offering a Veteran Plate with a light blue background and a U.S. flag.
The word Veteran is proudly displayed in large letters on the bottom of the plate. This plate does not replace the existing Veteran Plate or the Prisoner of War Plate, but is an additional style plate.

The cost to replace a mutilated Flag-Style Veteran plate is $15. See instructions here.
Veteran Plate Series:
The New Veteran plate is available for the following registration classification: passenger, commercial, combination, camper, camp trailer and motorcycle.
To apply by application:
Replace Current Plate and Change to the Next Available Veteran Series Plate:
Remake a Current Plate and Remake to Veteran Plate Background:
Veteran Plate Background - New Vanity Veteran Plate: