This is a joint press release from the state Department of Motor Vehicles and Connecticut Children's Medical Center.
FOR IMMEDIATE RELEASE
January 23, 2018

Lt. Governor Wyman, Connecticut Children's,
State Officials Announce New Whalers License Plate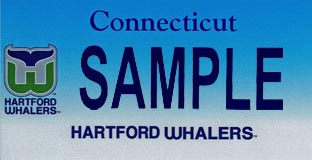 HARTFORD – Lt. Governor Nancy Wyman, the Department of Motor Vehicles, Connecticut Children's Medical Center and other state officials announced today that DMV will now offer a new commemorative license plate featuring the logo of the former Hartford Whalers hockey team. Governor Dannel P. Malloy signed the legislation to offer the plate and proceeds from the sale to benefit the future Connecticut Children's Infusion and Dialysis Center.
Governor Malloy said, "This is a win-win for Connecticut. Whalers fans came together in large numbers to support this initiative, and I am proud that they will have a new way to support their team while helping kids access lifesaving care."

Lt. Governor Nancy Wyman noted, "Two decades after having left Connecticut, the Hartford Whalers and their fans are still giving back. There are thousands of kids in Connecticut suffering from kidney disease. The proceeds of these license plates will help build out a pediatric dialysis unit that will make their lives just a little bit easier—and provide a welcome addition to our healthcare system."
Connecticut Children's, which will receive $45 from each Whalers plate order, is finalizing plans to renovate its current infusion center. The plate is expected to draw interest from the still many Whalers fans wanting to show their continued support and passion for the team, a popular and a long-time Connecticut presence in hockey. In 1997 the team was bought, moved to North Carolina and re-named the Carolina Hurricanes. The cost is $60 for re-making a current plate to have a Whalers background.
"We are honored to be selected as the beneficiary of this specialty plate. Whalers fans are passionate and supportive of a team that holds a significant place in Connecticut's sports history," said Jim Shmerling, DHA, President and CEO of Connecticut Children's. "This plate has been sought after for many years and we are thrilled it will also help support the lifesaving care Connecticut Children's experts provide to so many kids across the state and region."
DMV Commissioner Michael Bzdyra said, "The Whalers plate on a car will now mean the legend lives on saving children." He added that the plate, approved in the 2017 legislative session, promotes a worthy cause that affects so many children each year. Plates can be ordered by going to
ct.gov/dmv/orderwhalersplate
House Majority Leader Matt Ritter said, "The Whalers brought fans together in the capital city and continue to have a large and growing following in Hartford and across Connecticut. This commemorative plate will give back to these loyal fans, and will also generate funding that will benefit Connecticut Children's."
This plate will not only be meaningful to Whalers fans, but also the children of Connecticut in need of infusions and dialysis. As new therapies have been developed, the number of children needing intravenous infusions (for 1 to 8 hours) has increased significantly. The space currently being used at Connecticut Children's was designed over 15 years ago when the total infusion numbers were less than 20 percent of what they are now. Proposed plans would significantly increase that space.
Meanwhile, children needing dialysis must receive treatment in adult facilities without pediatric providers even though their needs are different from those of adults. In the last few years, there has been an exponential growth in the survival of children with end stage renal disease, requiring extensive, long-term dialysis. This proposed center would be of tremendous value to these children.