DMV Mission Statement
The mission statement of the Connecticut Department of Motor Vehicles (DMV):
To promote and advance public safety, security and service through the regulation of drivers, their motor vehicles and vehicle-related businesses.
Motor Vehicle Inspectors
Who We Are
The Connecticut Department of Motor Vehicles was founded in 1917. In 1919 the State Legislature authorized a uniformed force of 30 Inspectors equipped with motorcycles to inspect and weigh trucks on both the New York and Massachusetts borders. Connecticut pioneered the world's first Point System to control careless and dangerous drivers in 1947, and in 1950 Connecticut was the first to record vehicle engine numbers to track stolen vehicles. Today, Motor Vehicle Inspectors are P.O.S.T. certified (Police Officers Standards and Training) law enforcement officers with powers of arrest. Each Inspector has received hundreds of hours of specialized training and utilizes the latest technologies to assist in DMV's primary law enforcement functions which include:
Truck safety and size/weight enforcement

School bus inspections and enforcement
Licensing of repairers and dealers of new and used vehicles
Vehicle identification and auto theft investigation
Registration enforcement
Speed and traffic law enforcement
The primary objective of the Connecticut Department of Motor Vehicles, Motor Carrier Safety Assistance Program (MCSAP) is to reduce the number of accidents and hazardous material incidents involving commercial motor vehicles. The Commercial Vehicle Safety Division operates from six fixed weight and inspections sites and patrols all highways and numerous secondary roads throughout the State.
---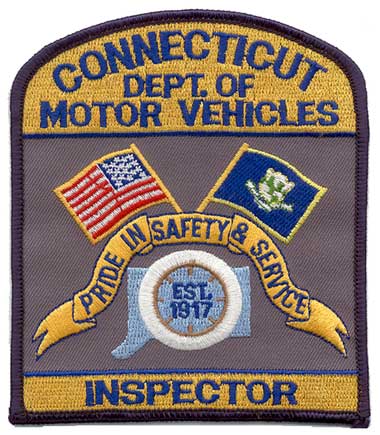 Connecticut DMV Inspectors proudly display this arm patch on their uniforms. The patch includes the State Seal, which became the uniform seal to be used by all departments in 1931 and included the motto "Qui Transtulit Sustinet" (meaning He Who Transplanted Still Sustains).
One of the popular explanations of the three grape vines is that they represent the three river towns (Hartford, Wethersfield, and Windsor) which were incorporated into the First Colony of Connecticut. It has also been noted that the three vines could represent the original three colonies of Connecticut (River Towns, Saybrook Colony and New Haven Colony). Another interpretation of the three vines is that it represents the three fundamental principles on which Connecticut was founded (Religion, Education, Law).
The banner attaching the United States flag and the State Flag reads, "Pride in Safety and Service." Our mission as a Department is to promote and advance public Safety, Security and Service through the regulation of drivers, their motor vehicles and certain motor vehicle-related businesses. Each Inspector is proud to serve the citizens of the State of Connecticut and will continue their duty in creating a safer highway environment for all.