Overview/History
The eastern Connecticut town of Lebanon is the tenth largest in the state and is dominated in the southern portion of the town by the 133 acre Red Cedar Lake. Lebanon by any standard of measurement is rural, but the land east of the lake, the land that makes up the only state park acquired in the 1980s, could certainly be categorized as 'uninhabited' at the time of purchase. For, in addition to the lake, the 459 acres of post-agriculture woodland combine to make this location, what would come to be known as Mooween State Park, one of the twenty largest contiguous state parks in the system; a location with very special importance to many individuals.
For four decades, beginning in 1921 and continuing through 1960, the eastern shore of the lake was home to a popular summer retreat for boys: Camp Mooween. All the elements of a classic summer camp dominated the sloping shoreline: dorm buildings, main hall, ball fields and boat house. The brainchild of enthusiastic naturalist and inventor Barney Girden, the camp counted among its notable alumni Edwin Land who later invented the Polaroid camera and Julius Silver, a key figure in the founding of Brandeis University.
Girden's forty years of 'graduates' were so closely knit that once the acreage that encompassed the camp became a state park, they rallied to endorse a name befitting their memories. They were convincing enough to have the park renamed in 2000 to retain, at least by name, some of the flavor of their old camp days: hence the designation Mooween State Park. Today the concrete footprints of the camp ruins are the only reminders of a past era in this otherwise densely wooded, beautifully set park.
Topography varies from a centrally located hilltop of just over 500 feet to brook valleys in the northern and eastern reaches that dip down 350 feet as they flow off of state land. The limited amount of sometimes overgrown foot trails and old roads mapped soon after the name change will help the visitor orient themselves through most of the park.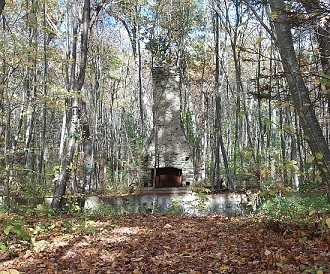 The stone chimney and concrete foundation of the main hall at
Camp Mooween dominate the remnants of the boy's camp.