Welcome
Anticipated trail improvements late summer of 2023, monitor site for updates.
Moosup Valley State Park Trail
Plainfield, Sterling
This 5.8 mile linear trail encompasses 62 acres as it stretches across two eastern Connecticut towns. Though it passes through predominantly woodlands, the eastern section parallels the Moosup River for approximately one mile. This level former rail bed has the Connecticut/Rhode Island (RI) boundary as its eastern State Park terminus but continues east from there as RI's Trestle Trail.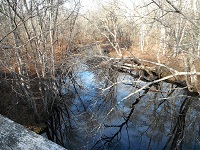 View of the Moosup River
from the State Park Trail

Content last updated March 2023