Welcome
CLOSURE ALERT -- The Moosup Valley State Park Trail Improvement Project will begin with clearing and grubbing for parking areas on Spring Lake Road and Industrial Park Road in Sterling on Wednesday, September 13, 2023. These trail areas will be CLOSED to public use while work is being performed.

The entire length of the trail, from Moosup to the Rhode Island border is currently being surveyed. Surveying stakes are being installed and are not to be removed.

Monitor this webpage for updates on when work will be performed in other areas.
Moosup Valley State Park Trail
Plainfield, Sterling
This 5.8 mile linear trail encompasses 62 acres as it stretches across two eastern Connecticut towns. Though it passes through predominantly woodlands, the eastern section parallels the Moosup River for approximately one mile. This level former rail bed has the Connecticut/Rhode Island (RI) boundary as its eastern State Park terminus but continues east from there as RI's Trestle Trail.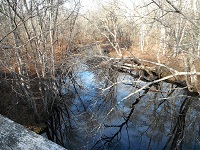 View of the Moosup River
from the State Park Trail

Content last updated September 2023