Overview/History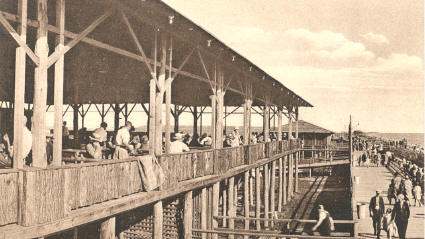 Hammonasset Boardwalk, circa 1925 "Hammonasset" means, "where we dig holes in the ground" and refers to the place where a settlement of eastern woodland Indians farmed along the Hammonasset River. They subsisted on corn, beans, and squash, and by fishing and hunting. The first colonists arrived in 1639. Property changed hands frequently between Native Americans and the first colonists. In 1898 the Winchester Repeating Arms Company bought Hammonasset and used it as a testing site for their new rifle. Their Lee Straight Pull rifle was mounted on a horse drawn stone boat, from which it was fired into targets on the beach.
On July 18, 1920, Hammonasset Beach State Park was opened to the public. The first season attracted over 75,000 visitors. The park's reputation drew tourists from across the continent as well as the state.
During World War II the park was closed to the public and loaned to the federal government as an army reservation. Meigs Point functioned as an aircraft range. Planes flew over Clinton Harbor, fired at the range and then flew out over Long Island Sound.
The stone breakwater at the Meigs Point end of the park was built in 1955. The stones were brought in by truck from quarries in northern New England.
Today, over three million people come annually to enjoy Hammonasset Beach State Park.