Welcome
Gillette Castle State Park
East Haddam
Although the castle is currently closed, please join us for the Holiday Program this 2021 holiday season.
It starts on Friday, November 26 2021, and continues on Saturdays and Sundays through the weekend before Christmas (last day 12/19/21).

Visitors are highly encouraged to book their tickets in advance through www.reserveamerica.com and look up "Gillette Castle State Park Tours." Tickets will be available for purchase in the Visitor's Center as well, but availability is limited to 12 visitors every 15 minutes. Plan to be up at the castle five minutes before the scheduled tour time. We cannot guarantee entry if your tour time has passed.

After the holiday program, the castle will be closed for tours until May 28th, 2022.

The park grounds and restrooms remain open daily from 8 am to sunset.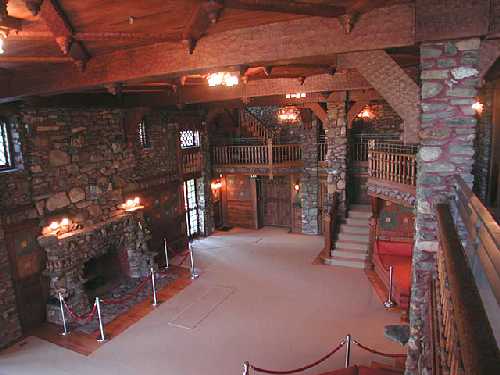 It looks like a medieval fortress, but a step inside the stone castle reveals the built-in couches, table trackway, and woodcarvings that all point to the creative genius that was William Gillette.
This property was acquired and/or developed with the assistance of the Land and Water Conservation Fund.


Content last updated November 2021