Welcome
Gardner Lake State Park
Salem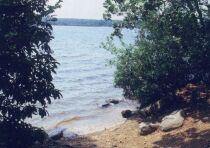 Gardner Lake State Park is one of Connecticut's small but important park locations in the southeastern part of the state. At only nine and three quarter acres, this park principally provides boating and recreational access to the 528 acre Gardner Lake.
PLEASE NOTE:
For current water quality alerts for this park, please visit www.ct.gov/deep/beachstatus
The possession and consumption of alcoholic beverages is prohibited at Gardner Lake State Park.

Content last updated June 2018