Facilities
Bathrooms, Conference Center, Fishing Pier, Onsite & On-street Parking, Visitor Center, Waterfront Walk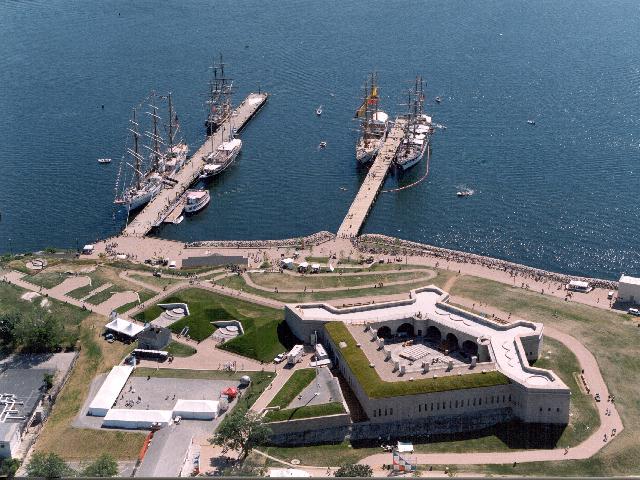 Fort Trumbull State Park, New London
The Fort
Built from 1839 - 1852, the fortification is one of a group of 42 forts which were constructed for the defense of the coast of the United States, and for defense of the harbors they guarded. This group of forts became known as the Third System of Fortifications. Fort Trumbull is unique in the "Third System" because of the Egyptian Revival features incorporated in the architectural design. The Fort is a wonderful example of its era, a masterpiece in stonework and masonry. The Fort contains informative markers and displays, a touchable cannon and artillery crew display, and gun emplacements. The fort interior features 19th Century restored living quarters, a mock laboratory, and a 1950's era office furnished to resemble a research and development lab at the facility. The public also has access to the ramparts for a spectacular view of the New London Harbor.
Fort Hours:
The Fort is open Wednesday through Sunday from 9:00 am to 5:00 pm from May 21 through Labor Day. The Fort is closed between Labor Day and Memorial Day Weekend.
Visitor Center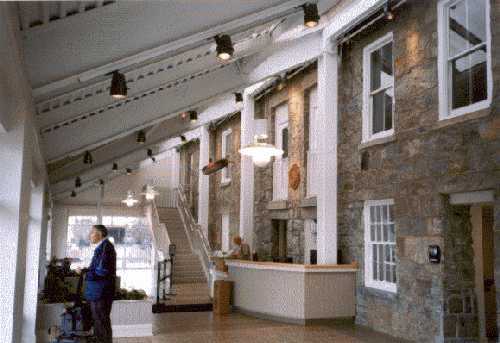 The Center contains state of the art multimedia theaters, computer touch screen interactive exhibits, 3-D models, and extensive graphics and text panels. This one of a kind center depicts over 225 years of military history and technological advances from the Revolutionary War to the Cold War. Some of the main themes of the Visitor Center are the September 6, 1781 attack by the British under the command of Benedict Arnold, the U-boat menace during World War II, and the anti-submarine efforts during the Cold War.
Visitor Center Hours:
The Visitor Center is open the Saturday of Memorial Day Weekend through Labor Day, Wednesdays through Sunday, from 9:00 am to 5:00 pm. The last ticket for entry is sold at 4:00 p.m.
The Center is closed between Labor Day and Memorial Day Weekend.