Welcome
Dinosaur State Park
Rocky Hill
Due to the COVID-19 pandemic, until the global health crisis has passed, the Exhibit Center is CLOSED. We do not have a reopening date. However, the Dinosaur State Park grounds and trails remain OPEN for solitary and household recreation.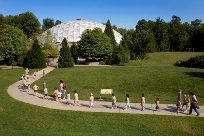 If you like dinosaurs, you'll love our 200 million-year-old fossil trackway, interactive exhibits and the chance to cast your own dinosaur footprint to take home.



This property was acquired and/or developed with the assistance of the Land and Water Conservation Fund.


Content updated: December 2020