Welcome
Dinosaur State Park
Rocky Hill
The Exhibit Center is open to the public Tuesday through Sunday, 9:00am to 4:30pm.

Track casting and Gem and Fossil mining are currently open.

Dinosaur State Park is participating in the Governor's initiative "Connecticut Summer at the Museum."

All children under the age of 18 and 1 accompanying adult, who are residents of Connecticut, receive FREE admission to the Dinosaur State Park Exhibit Center.

This program runs from July 1, 2021 to September 6, 2021. No pre-registration is required or available. Upon arrival at the Exhibit Center, please provide proof of residency (examples include driver's license, utility bill, etc.). We look forward to seeing you this summer!

IMPORTANT: This program is designed for families and does not apply to camp, school, or other groups.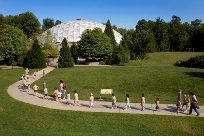 If you like dinosaurs, you'll love our 200 million-year-old fossil trackway, interactive exhibits and the chance to cast your own dinosaur footprint to take home.



This property was acquired and/or developed with the assistance of the Land and Water Conservation Fund.


Content updated: May 2021