Welcome
Dinosaur State Park
Rocky Hill
As of May 29, 2021 the exhibit center will be open to the public during normal hours Tuesday through Sunday, 9:00am to 4:30pm.

Track casting is open.

Gem and Fossil mining is not open at this time.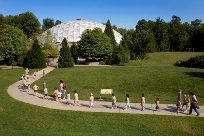 If you like dinosaurs, you'll love our 200 million-year-old fossil trackway, interactive exhibits and the chance to cast your own dinosaur footprint to take home.



This property was acquired and/or developed with the assistance of the Land and Water Conservation Fund.


Content updated: May 2021