Urban Wood Utilization in Connecticut: Wood Chips for Sustainable Year-Round Farming in Connecticut
The fuel price spike in 2008 prompted a shift to biomass burners for some of Connecticut's plant growers. Geremia Farms in Wallingford is a good example of this change. The family-owned business has implemented a biomass heating system for their greenhouses. Instead of oil, the biomass burners use wood chips to heat water that is piped throughout the greenhouses, providing heat to the 7-acre facility.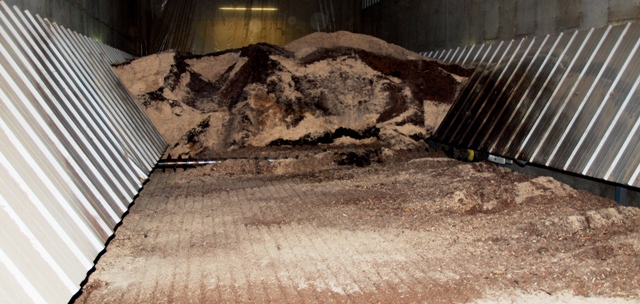 The wood chip bunker at Geremia Farms in Wallingford, CT. Wood provided by local arborists is ground and dried before burning.
Local commercial arborists from the towns of Wallingford and Meriden provide wood chips and other tree debris at no cost to Geremia. Larger pieces of wood and wood chips are further ground in the facility's tub grinder and then let to dry for about one year. The heat produced warms both the growing and work areas of the facility. Geremia consumes about 2,000 tons of woodchips every year.
In Connecticut, there is a growing interest in locally grown produce. It is interesting to think in terms of heat as another plant product that can be locally grown. Use of "waste wood" to offset the use of fossil fuels is another example of locally-based sustainability.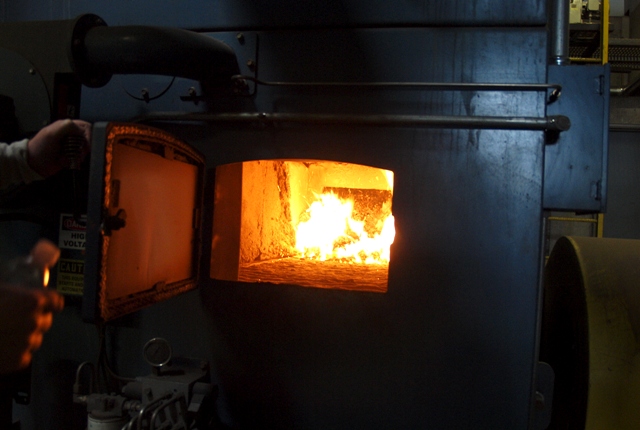 Wood chip incinerator at Geremia Farms.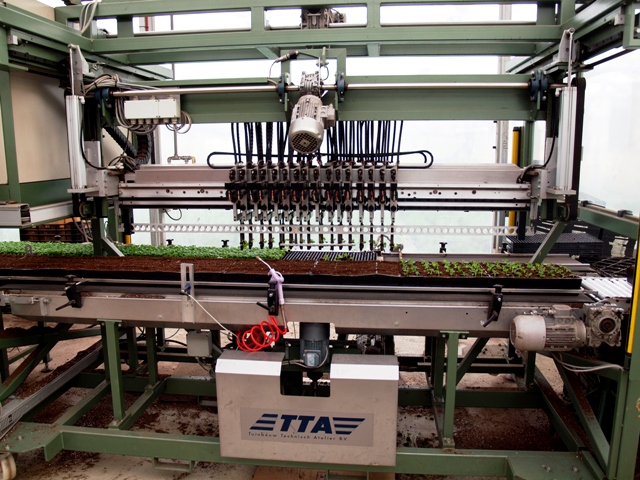 Robotic seedling planter at Geremia Farms. Mechanical fingers grasp, hold, insert and release seedlings from one container to another. Transplanting the young plants to larger containers allows them to continue growing while minimizing handling damage.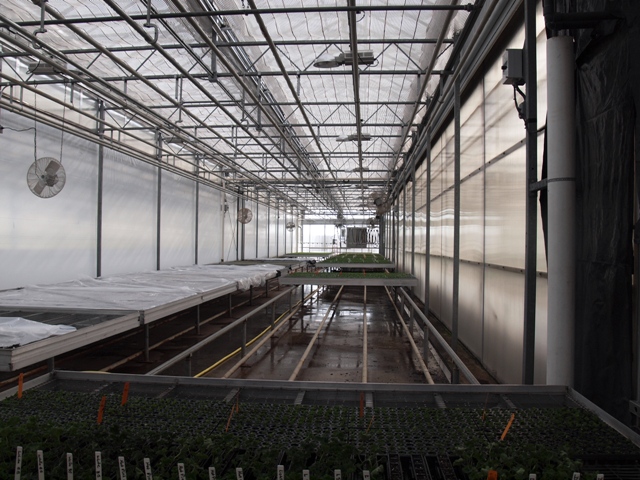 Rolling benches at Geremia Farms. Individual benches move along supports from one operation station to the next or between greenhouses with different humidity and temperature conditions.
Resources
Urban Wood Utilization - Introduction and Table of Contents
Content last updated November 2020