Voting Rights - Every Vote Counts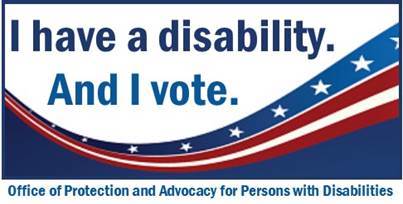 DDS is pleased to be working with The Office of Protection and Advocacy for Persons with Disabilities to spread the word – EVERY VOTE COUNTS! Long before passage of the Help America Vote Act in 2002, OP&A established its Every One Counts voting initiative. Since 2000, they have been educating voters with disabilities and registrars; evaluating polling places; developing educational materials; registering voters; and encouraging good election legislation that ensures equal opportunity. The process is multi-faceted, but the goal is simple: To ensure that people with disabilities have the same right to vote privately and independently as everyone else.

This video promotes that everyone has a right and a responsibility TO VOTE! For every person who does not vote, our democracy is weakened; for every person who does, it gets stronger. JUST VOTE!

We want to congratulate all of the participants in the video for making it clear EVERYONE has a VOICE! Michael Adamczyk, one of the voices, the receptionist, office coordinator, and voting information contact in the WR Cheshire Office.
USE YOUR VOICE AND VOTE!
Voting video link
You tube: