Special Olympics Unified Sports Holds Annual Awards Banquet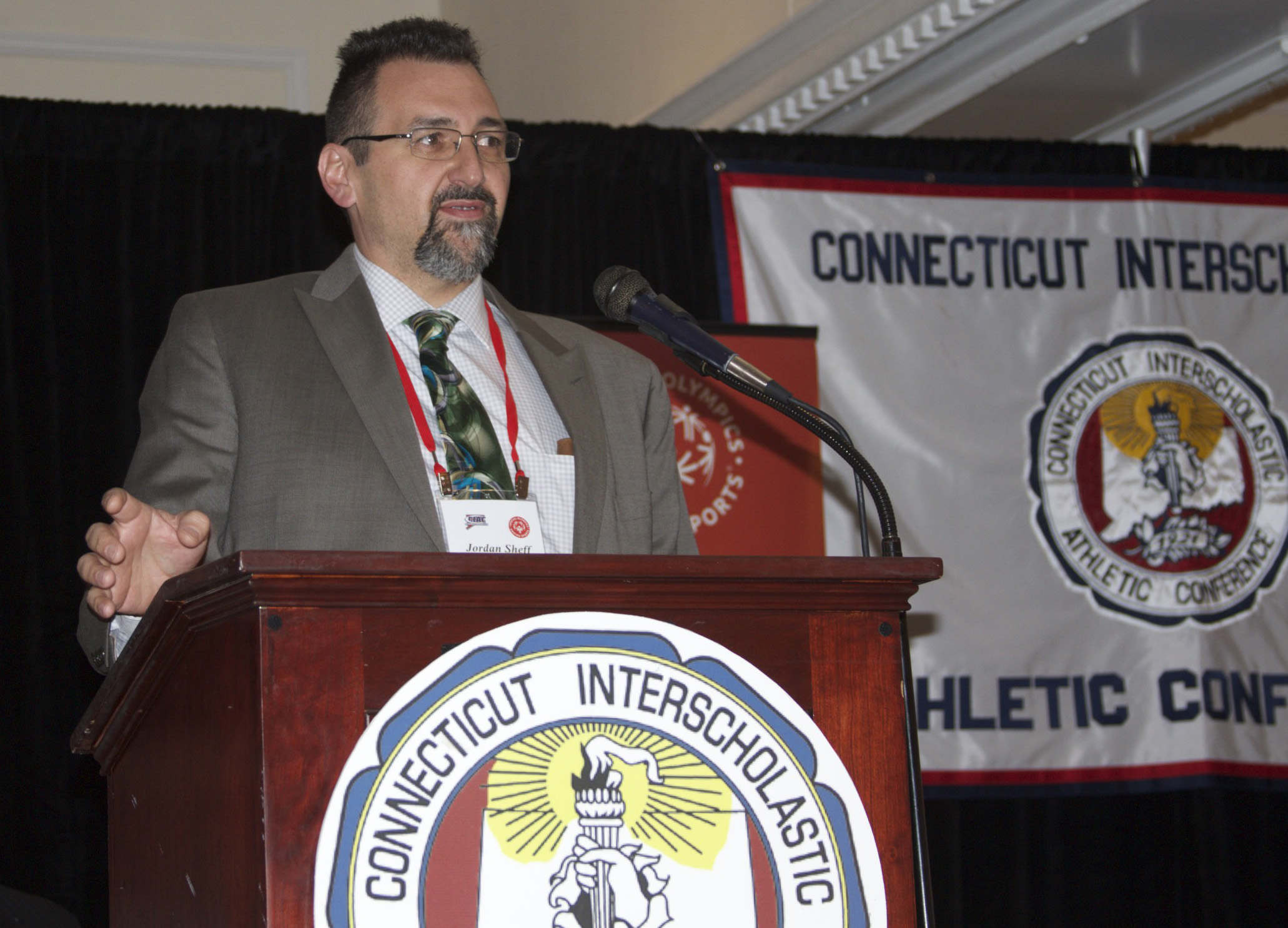 DDS Deputy Commissioner Jordan Scheff
The 12th Annual Michael's Jewelers' Unified Sports® Cup Awards Banquet honoring students who participate in the Special Olympics Unified Sports® program presented by the Connecticut Interscholastic Athletic Conference (CIAC) and Special Olympics Connecticut was recently held at the Aqua Turf Club in Plantsville. Department of Developmental Services (DDS) Deputy Commissioner Jordan Scheff was one of the featured speakers.
"The Special Olympics Unified Sports® program teams up athletes with and without intellectual disabilities to play sports, gain physical fitness, develop friendships and demonstrate appreciation and respect for each other both on and off the playing field. The program helps to create a more positive, inclusive school climate and is currently offered in over 200 schools across the state through Special Olympics' partnership with the Connecticut Interscholastic Athletic Conference (CIAC)."
The event is held each year to recognize high school and middle school students of all abilities who exemplify sportsmanship, enthusiasm and teamwork as participants in Special Olympics Unified Sports®. And, to honor their coaches and athletic directors and the sponsors who support the program.
"Unified sports does so much more than anything else I have witnessed for breaking down barriers in school communities, eliminating age old stigmas and stereotypes. It starts on a court or a field, but it carries over into hallways and lunch tables and eventually into lifelong relationships," said Deputy Commissioner Scheff.
One of the student athletes honored last night was the Deputy Commissioner's daughter, Winona Scheff. Ms. Scheff, a junior at Rockville High School participates in a variety of unified sports, in addition to traditional sports, and is an accomplished writer as well.