Launch of the Coordinated Transportation Information Website: TransitNet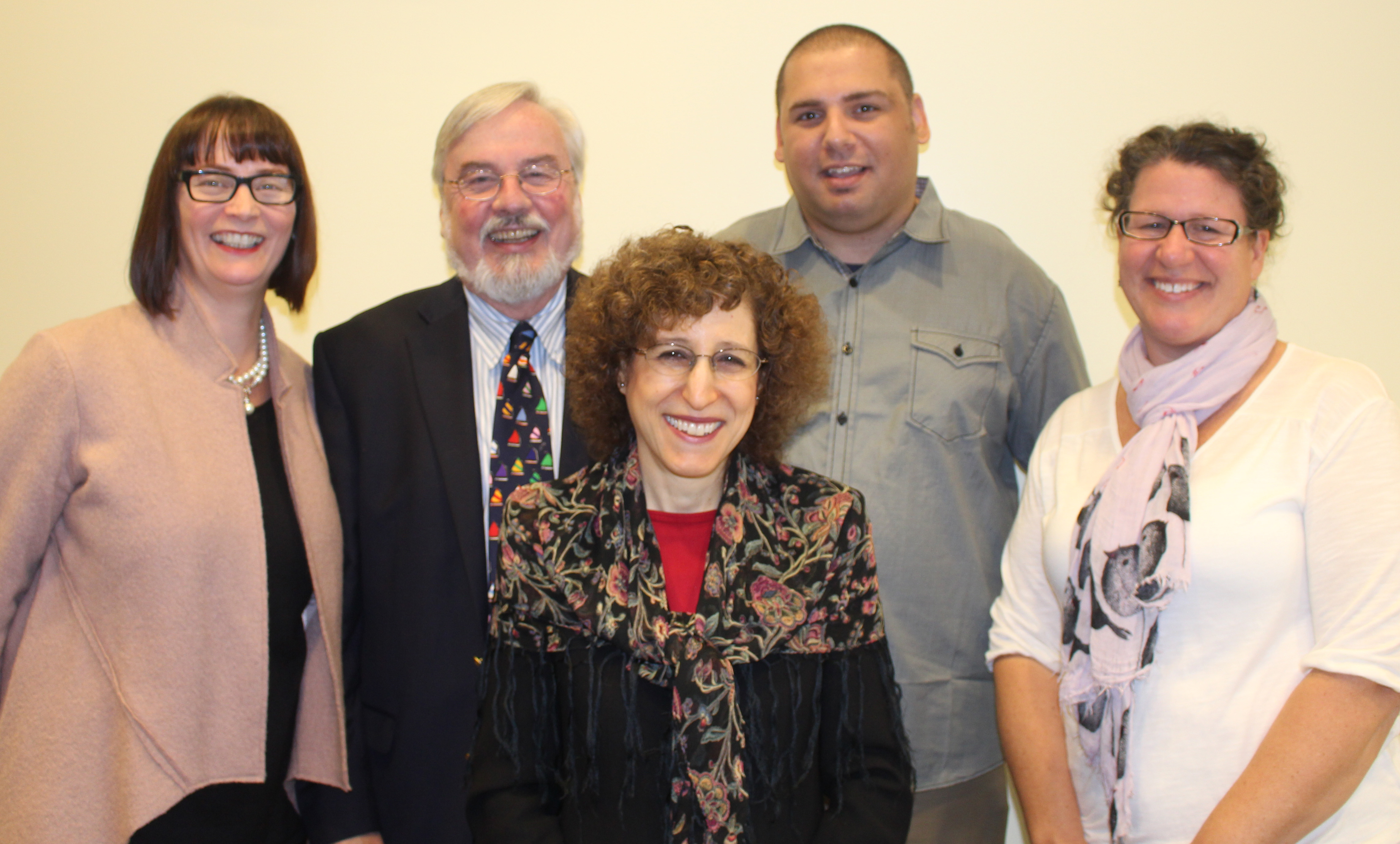 (left to right) Leslie Simoes, Executive Director of The Arc Connecticut, Terrence W. Macy, Ph.D., Commissioner Department of Developmental Services, Rachel Simon, Author and Keynote Speaker, Carlos Colon, Self-Advocate Coordinator and Dianne Bilyak, Project Manager for TransitNet, The Arc Connecticut

FOR IMMEDIATE RELEASE
Contact: Leslie Simoes, Executive Director, The Arc Connecticut,lsimoes@arcofct.org,
(860) 246-6400 x101 / Cell: (860) 372-5480
The Arc Connecticut Launches TransitNet
A Transportation Information Resource for
People with Disabilities and Older Adults
With Special Guest Rachel Simon
Author of: Riding the Bus with My Sister
Thursday, October 23rd Beth El Temple in West Hartford
11:30 a.m. - 2:30 p.m.
October 22, 2014
Hartford, CT. The Arc Connecticut, the state's leading advocacy organization on behalf of individuals with intellectual and developmental disabilities, will be unveiling a new transportation information website "TransitNet" on Thursday, October 23. It will take place at Beth El Temple on 2626 Albany Avenue in West Hartford from 11:30 a.m. - 2:30 p.m. Registration is from 11:30 - noon, and lunch and dessert will be provided. A short program that will include individuals and their families sharing stories of their challenges finding suitable transportation will begin at 12:15 p.m., which will be followed by a book signing with Rachel Simon. Copies of Riding the Bus with My Sister will be available for sale (check and cash only).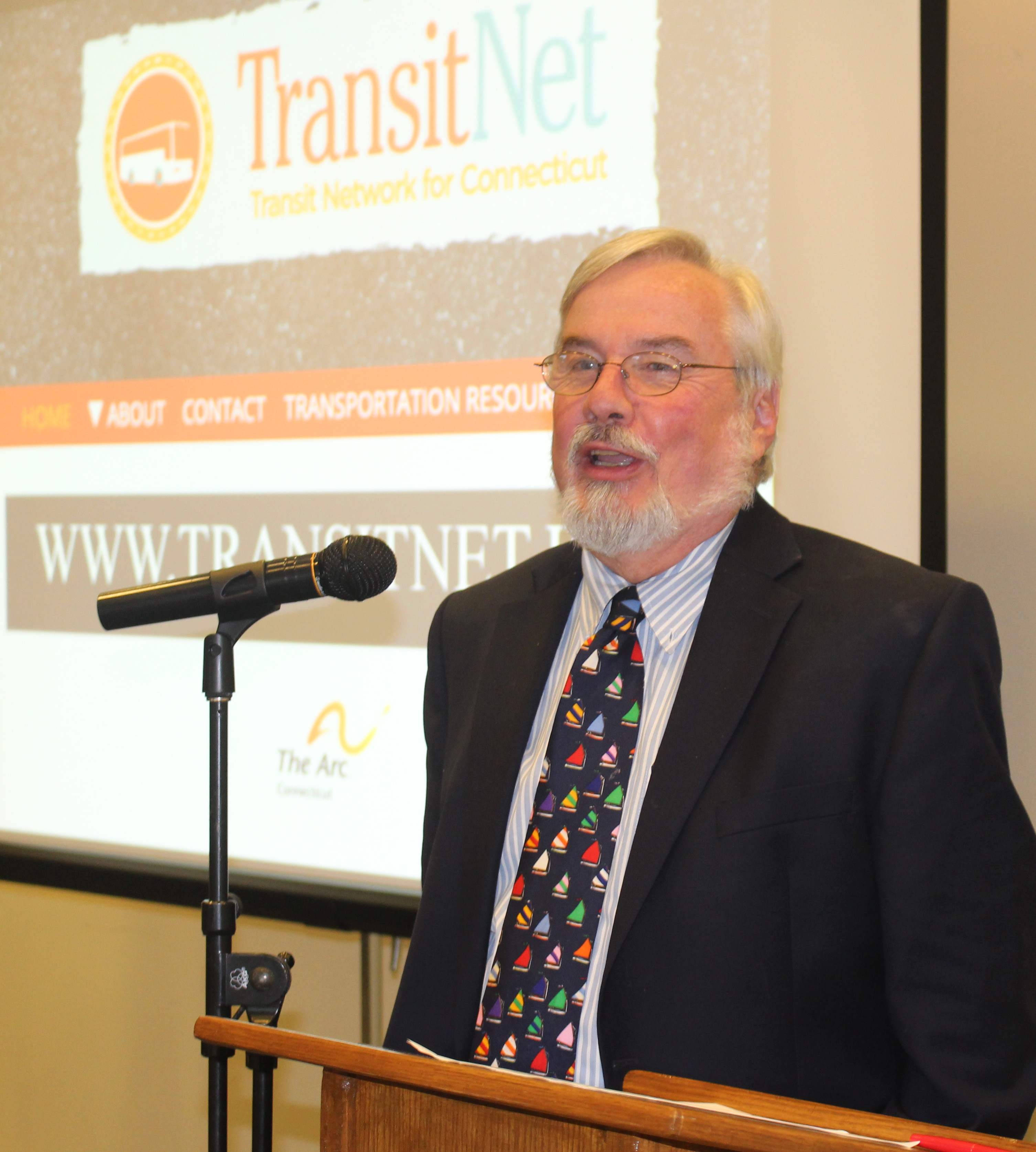 Commissioner Terrence W. Macy, Ph.D. addresses the audience
The announcement of The Arc Connecticut's Coordinated Transportation Information and Resource Website (TransitNet) for individuals with disabilities, senior citizens, their family members, caregivers, and providers comes at a critical time for families across the state are receiving less funding, but the needs of their family member continues to grow.
Families across the state are becoming more vocal about their fears for the future of their children. The lack of transportation in some parts of the state negatively impacts their adult children's ability to live independently in the community of their choosing. If these individuals are lucky enough to receive funding to day services, often there is limited or no funding to assist families in transporting their child to and from a work site.
Individuals with disabilities, including self-advocates have also been speaking out about their need to find reliable transportation. Depending on where one lives in Connecticut, the availability of buses, trains, and taxis can range from being extensive to having one van at the local senior center.
Senior citizens have similar concerns about availability, depending on where they live, and continue to struggle with daily activities, especially when they can't drive anymore. For those who had been drivers, it can be difficult to know what options exist.
Therefore, figuring out how to get to doctors' appointments, family functions, and funerals can really impact their quality of life.
TransitNet will not provide actual transportation to people, but the website will offer links to transportation resources and also list contact people, phone numbers, and email addresses (when available) to the populations listed above. Then, they can know where to start, where to turn for assistance and begin to navigate Connecticut's existing systems. It will also reveal where transportation options are limited in the state.
The Arc movement is more than 60 years old. It was founded in the spirit of community inclusion and remains a grassroots organization established by families to provide supports and advocacy for people with intellectual and developmental disabilities locally and in states nationwide. The Arc Connecticut is affiliated with The Arc of the United States, which has a network of over 700 chapters across the country promoting and protecting the human rights of people with I/DD and actively supporting their full inclusion and participation in the community throughout their lifetimes and without regard to diagnosis.
TransitNet is made possible by funding from the U.S. Administration for Community Living and managed in partnership with the Federal Transit Administration and administered by the Community Transportation Association of America (CTAA) in Partnership with Easter Seals, the National Association of Area Agencies on Aging (n4a) and Westat. The goal is to implement inclusive coordinated transportation systems that incorporate the suggestions and ideas of people with disabilities and seniors and lead to improvements in community transportation services for the target population.
Editor's Note: The Arc is not an acronym; always refer to us as The Arc, not The ARC and never ARC. The Arc should be considered as a title or a phrase.