Connecticut Teen Debuts in CBS's Blue Bloods
Dylan Ciesco, a 13-year-old 7th grader from Tolland, Connecticut, will make his acting debut as a featured background player in CBS's Blue Bloods on Friday, October 26th just in time for Down Syndrome Awareness Month. Blue Bloods is shown locally on WFSB at 10 p.m.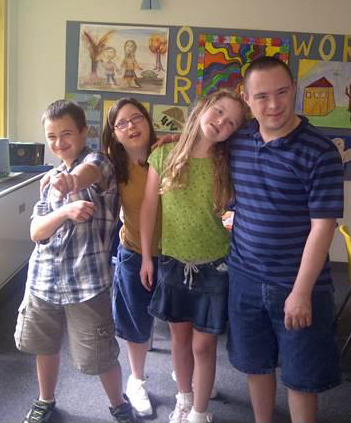 The crew from DSiAM on the set of Blue Bloods: Dylan Ciesco(pointing) along with his friends JudyAdams (from NY), Dani Chase (From Ohio) and Matthew Adams (from NY).
Dylan is part of a group called Down Syndrome in Arts and Media. After years of supplying talent with developmental disabilities to casting directors in Hollywood for films and television and across the U.S. for commercial advertising and industrial films, media activist and consultant Gail Williamson has created a website just for talent who have down syndrome or other developmental disabilities. Down Syndrome in Arts & Media, DSiAM pronounced "D.S. I am" is now on line and collecting talent for its data base.
Down syndrome is a genetic condition that causes delays in physical and intellectual development. It occurs in one in every 691 live births. Individuals with down syndrome have 47 chromosomes instead of the usual 46. It is the most frequently occurring chromosomal disorder. Down syndrome is not related to race, nationality, religion or socioeconomic status. The most important fact to know about individuals with down syndrome is that they are more like others than they are different.
When Dylan was told that he would be cast in the show his said, "This is what it feels like when your dreams come true!"
Join Dylan's family as they celebrate Dylan and his friends from DSiAM while they highlight their talent and are given the opportunity to show just how much they have to share by tuning in to Blue Bloods.