Connecticut's Family Support Council Holds Annual Breakfast and Honors DDS Commissioner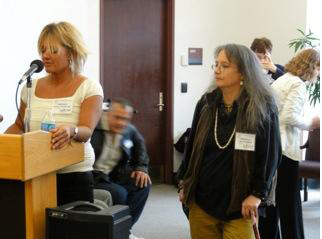 Co-Chairs, Robyn Trowbridge and Lisa Sheppard
The Connecticut Family Support Council (CTFSC) recently held their annual Legislative Breakfast at the Legislative Office Building (LOB) in Hartford. Council members, families, legislators and Department of Developmental Services (DDS) administrators were on hand to discuss the changing fiscal landscape in Connecticut and ways to work together to have their voices heard.
"We at this Council come and stand together, within the greatest representation of Partnership that can be found…families, advocates, and State agency leaders, joined and committed to identifying solutions…solutions that yield the best outcomes for some of Connecticut's most vulnerable citizens…children with disabilities and special health care needs," said Council Co-Chair Robyn Trowbridge.
The Council is made up of state agency representatives and family members who are appointed by the Governor and legislature.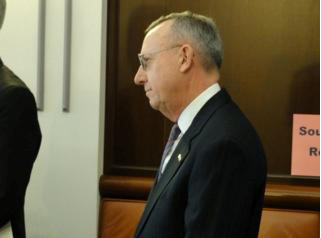 Commissioner Peter H. O'Meara
"We remain clear that we are your eyes and ears when it comes to children with disabilities and special health care needs and their families, and we take that charge very seriously" continued Ms. Trowbridge. "This Council has been able to remain on the pulse of family issues with critical support from all partners and on-going research and information from numerous sources, most often, the Office of the Child Advocate and the Commission on Children. I publicly thank them for all that they do that is so vital in continuing to close the gap for families."
In addition to their yearly agenda items, the Council honored retiring DDS Commissioner Peter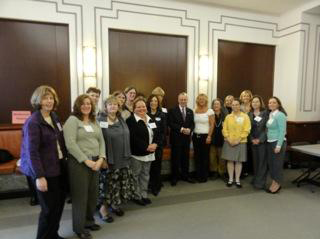 Connecticut Family Support members and Commissioner O'Meara
H. O'Meara.
"Under Commissioner Peter H. O'Meara's leadership, we have become a State whose ideology, values and practice are more closely moving in concert on behalf of those served. It has been a time when standards matter and doing the right things counts," said Ms. Trowbridge. "During the past 16 years, he has sustained, supported, and supervised this enormous system, serving some 20,000 individuals within a steadfast commitment and expectation of safety, quality, accountability, and person-centeredness."
The Council presented Commissioner O'Meara with an engraved compass for the years he has shown them the way.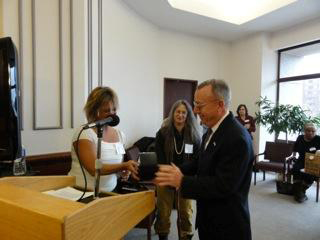 Ms. Trowbridge presenting Commissioner O'Meara with an engraved compass.