STS Residents Deliver Poinsettias to Governor Rell
DDS delivers poinsettias to
Governor M. Jodi Rell in her
State Capitol Office
The Department of Developmental Services' (DDS) Southbury Training School (STS) consumers recently delivered dozens of poinsettias to Governor M. Jodi Rell at the State Capitol, Hartford. Over the years, it has become a tradition for the residents who work at the STS Greenhouse to decorate the Capitol for the Holidays.
Governor Rell met with Joseph Caruso, Walter Paul, Anthony Rossini, and Harold Small in her office. The STS residents were joined by DDS Commissioner Peter H. O'Meara and DDS employees, Tonya McNair, Director of STS Day Programs, Joy Guidess, DSASI and Thomas Lavoy, DSASI.
The STS residents tend to hundreds of plants in the school's greenhouse program. The program is one of many DDS programs offering a variety of opportunities and environments that encourage individual talent and skills for the residents.
(left to right) Harold Small, Walter Paul,Governor M. Jodi Rell, Joseph Caruso, Thomas Lavoy, Anthony Rossini, Tonya McNair and Commissioner O'Meara. (not pictured) Joy Guidess
Joy Guidess, DSASI gives Governor Rell one of her hand designed planters.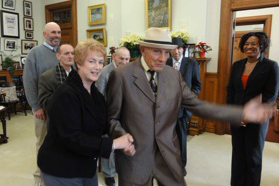 Anthony Rossini entertains Governor Rell.