DDS Unveils New Emergency Command Center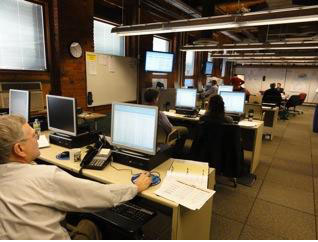 It was all systems go, as the Department of Developmental Services (DDS) Central Office Incident Command Team staff opened the doors on the new Central Office Emergency Operations Center. Funded through the Nuclear Safety Emergency Planning fund administered by the Department of Emergency Management and Homeland Security (DEMHS), and DDS monies, the center features a new configuration with large screen monitors, a new fax machine, and new computers.
DDS Central Office Emergency Management Coordinator Dennis Mitchell headed up the team that worked to ready the Central Office Emergency Operations Center. "It was a joint effort to put together the new center," said Mr. Mitchell. "We had support from DDS administrators and Information Technology and Building Support Services who helped to install the new equipment".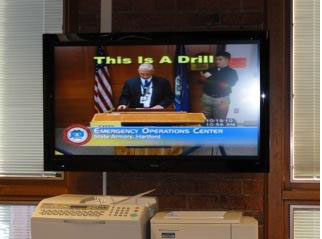 On Tuesday, October 19th, DDS Central Office and Regional Incident Command Teams along with other state agencies and municipalities, the Federal Emergency Management Agency, and the Nuclear Regulatory Commission participated in an emergency response drill. The drill was designed to assess Connecticut's response to an accidental release of radioactive material into the atmosphere from the Millstone Nuclear Power Station in Waterford, Connecticut.
"DDS has participated in over 20 different federal, state and local emergency response drills over the past 10 years and each time we practice we learn more about what is needed to manage our statewide system that serves over 19,000 individuals", said Daniel Micari, DDS Director of Emergency Management. "This drill definitely proved to be the best so far, in our response and management of an emergency event that could affect the welfare of the people we serve".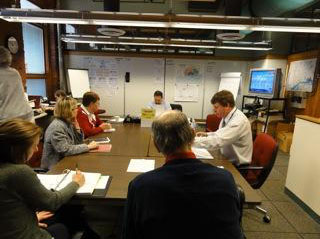 DDS Incident Command Teams were called into action around 8 a.m. and responded to the exercise until its conclusion at 2:30 p.m. DDS Incident Command Teams were located at the Office of Emergency Management(OEM) at the Connecticut State Armory in Hartford, and DDS offices in Hartford, Wallingford, Waterbury and East Hartford. Throughout the exercise, communication was extremely important in relaying information from OEM through e-mails, phone calls and faxes. As the Millstone Nuclear Power Station is located in the DDS South Region, the South Region Incident Command Team in Wallingford, with logistical and operational support from other DDS Incident Command Teams, was the busiest, testing emergency response plans for the safe evacuation and relocation of affected DDS consumers and staff.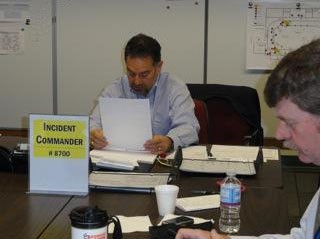 Over the years, DDS Emergency Management has become a key player in federal, state, and local emergency planning and response efforts. The agency continues to train and prepare to respond to any type of emergency that would affect DDS consumers and their families.