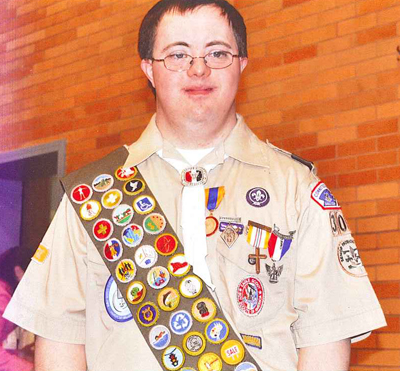 Eagle Scout Michael LoVetro, Troop 302 of Waterbury, recently received the Medal of Merit from the Boy Scouts of America.
Mr. LoVetro saved a fellow traveler from serious injury last July when the wheel of her luggage got caught in the escalator at Bradley Airport, and she began to fall backwards while trying to pull it free. He ran onto the escalator and helped her to get onto her feet and rode up behind her with his hands on her back until she reached the top where she received medical attention.
The Medal of Merit is awarded by the National Council of the Boy Scouts of America for rescuing or saving someone from harm without thinking of your own safety.
Four years ago, Mr. LoVetro, the son of Guy and Mary Ann LoVetro of Waterbury became an Eagle Scout. To receive such a high honor, he had to earn 21 Merit Badges and complete a minimum of 40 hours of service. His service project was refurbishing the Veterans Memorial Park and old cemetery in Waterbury.
Troop 302 is sponsored by the ARC of Waterbury, for young men with Special Needs.