STS Unveils New Ambulance
STS Fire Chief Timothy Baldwin shows the new ambulance to DDS Commissioner Peter H. O'Meara, while (left to right) Jackson Pierre-Louis, Assistant Regional Director, Tom Bowolick, STS Assistant Fire Chief, and Gary B. Abrams, STS Firefighter/EMT, look on. Photograph by William Kiliany
The Department of Developmental Services (DDS) Southbury Training School (STS) recently unveiled the Fire Department and Emergency Medical Services new ambulance. The new ambulance is in its final stages of inspections before starting service to STS residents, the Towns of Southbury and Roxbury and Heritage Village, a retirement community in Southbury.
"The STS Fire Department and Emergency Medical Services provide an essential service to the residents of STS and the community," said DDS Commissioner Peter H. O'Meara. "This new ambulance will help enhance the emergency service they have provided to STS over the years."

The new state of the art ambulance, which replaces one built in 1996 with 240,000 miles, features enhanced lighting and stretcher, and a new infant car seat. Costing over $150,000, the ambulance joins a fleet of equipment at STS. Last year, STS responded to over 1,100 emergency calls and is estimated to make over 1,400 calls in 2008.
"This ambulance has been designed with the needs of the residents of STS in mind. The style of the patient care compartment enhances our EMTs abilities to provide good care to these folks, in addition to the residents of the Town of Southbury. The safety features that are built in will ensure the safety of the crew and of the individuals receiving care," said Southbury Training School Fire Chief Timothy Baldwin. He is very excited to see this ambulance go into service over the next couple of weeks.
STS employs fourteen firefighters/EMTs and 26 volunteer firefighters, eleven of which are EMTs. In addition to their regular Fire and EMT training, they are required to complete the National Incident Management Systems (NIMS) classes in hazardous materials response, bloosborne pathogens and general scene safety.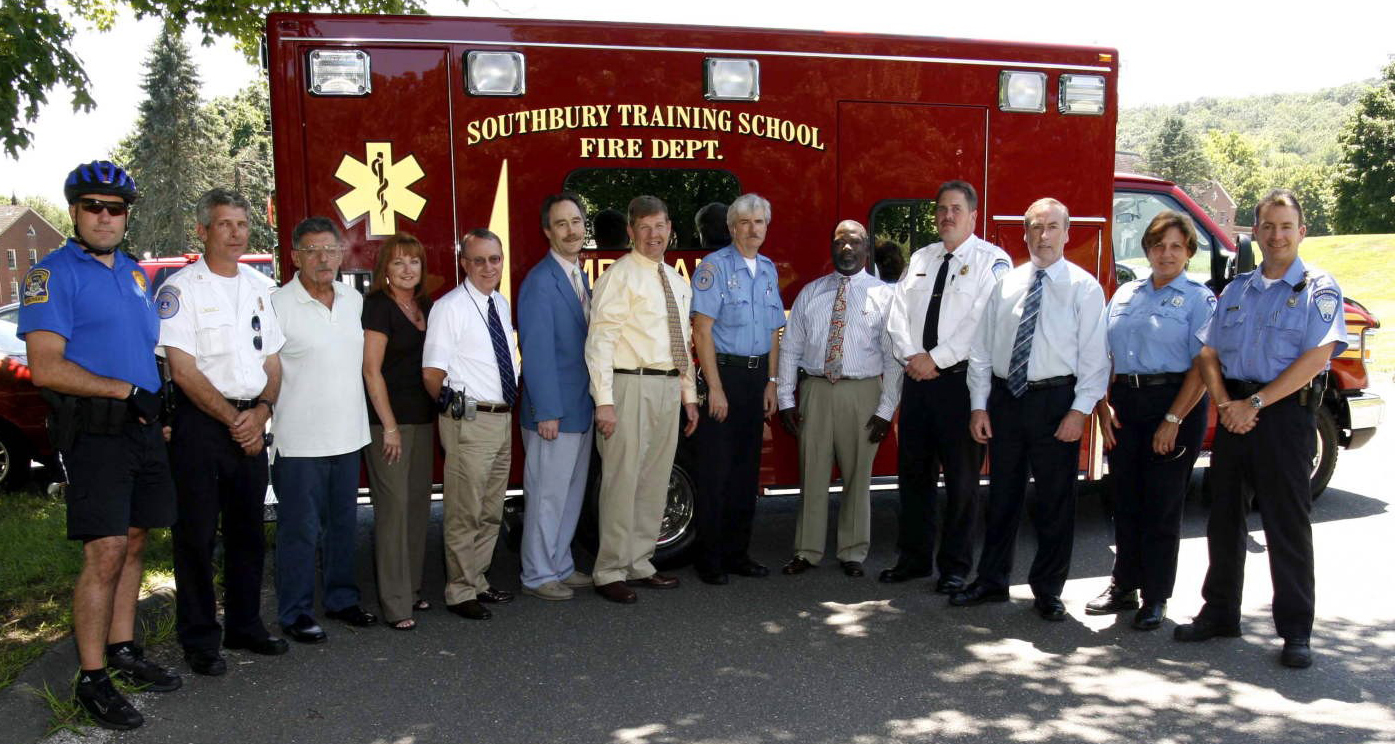 Left to Right: Connecticut State Police Trooper John Moreno, STS Assistant Fire Chief Tom Bowolick, Vincent Perry, President STS Home and School Association, Eileen Lemay, Vice-Chair STS Board of Trustees, DDS Commissioner Peter H. O'Meara, State Rep. Arthur O'Neill, DDS Regional and STS Director Fritz Gorst, Gary B. Abrams, STS Firefighter/EMT, Jackson Pierre-Louis, Assistant Regional Director, Timothy Baldwin, STS Fire Chief, Eugene Harvey, Assistant Regional Director, Christine Pratt, STS Lieutenant, and Robert Gleason, STS Firefighter/EMT.
Photograph by William Kililany