Petition No. 740
T-Mobile
Prospect, Connecticut
Staff Report
October 18, 2005
In this petition, T-Mobile seeks to add a 12-foot extension onto an existing 150-foot tall monopole in order to mount antennas at 160 feet AGL.
Council member Ed Wilensky and staff person David Martin conducted a field review of this proposal on October 17, 2005. They were joined during the review by T-Mobile representatives Brian Paul, Simon Brighenti, Karina Fournier, Dan O'Connor, and Mike Hertel.
There are four carriers on the existing monopole: Sprint at 147 feet, Verizon at 137 feet, AT&T at 127 feet, and Cingular at 117 feet. According to T-Mobile's RF engineer who was present, the next available height would be too low to enable T-Mobile to cover the area it is seeking to cover from this location. Since the available lower heights would not work, T-Mobile would have to install its antennas higher than the 150 foot pole and would, therefore, need to add the twelve foot extension.
A structural analysis concluded that the existing tower was not capable of accommodating T-Mobile's proposal without strengthening the tower. Plans for structural improvements to the tower were submitted, and a letter attesting to the adequacy of the planned improvements was also submitted.
The tower is located deep in the woods of a 100+ acre parcel. There are no residences within sight of the base compound. The nearest residence belongs to the property owner who has no objection to the proposed extension.
The tower is visible for a short distance along Cheshire Road (Route 68) in the vicinity of the town's public works yard and the VFW Hall across the street.
The Prospect Town Planner sent a fax of the Town's original approval of the existing tower which stipulated that the tower "will not exceed 150 feet above ground level."
Photograph of existing tower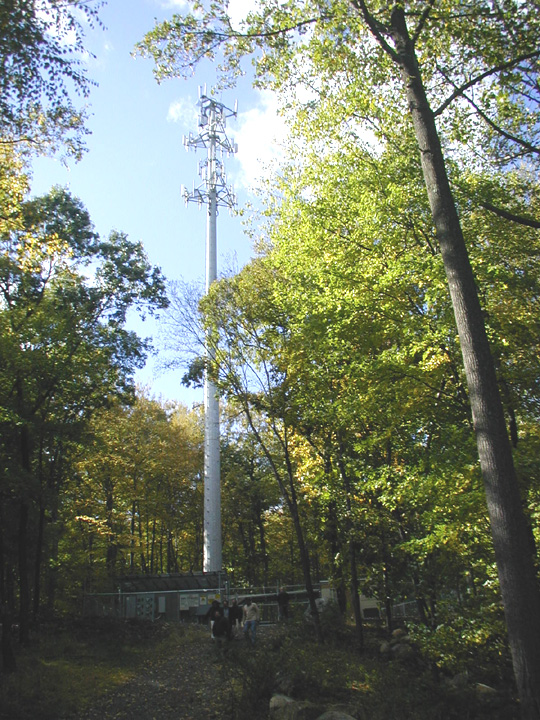 View of tower from Cheshire Road (Route 68)