Trey Barnes, A New Man - Success Story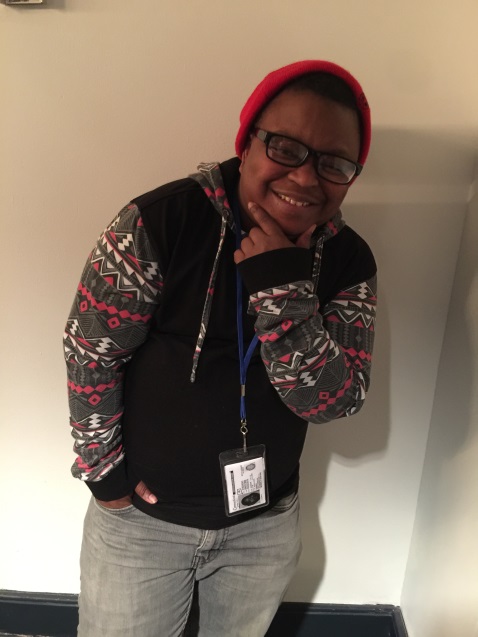 Trey Barnes
A New Man

NEW HAVEN---Trey Barnes, 32, of Meriden is a new man after a lifelong journey. Trey has been aware that he was male since age 9, but not until he was able to transition was he able to begin living a life he wanted. On Valentine's Day, he went to (Meriden) City Hall to retrieve a new birth certificate with his new name and new identity.

"It was a Valentine's day gift to myself," said Trey, who was beaming sitting with ten of his buddies in the mezzanine at the Shubert Theatre during intermission of a performance of Spam-a-Lot.

Trey said he has known most of his life that he was born into the wrong body. He said he grew up identifying as male, but was forced into situations where he had to present as a girl.

"Horrible," he said reflecting on his childhood. "Dressing as a girl made me feel uncomfortable, like I was in a play I didn't want to be in."

Trey grew up in a supportive family in central Connecticut, although they were not always open to his awareness as a transgender person.

"I waited until I was 29 before telling them and it wasn't easy, but they are trying to be supportive, and I love them to death," he said.

Trey also has the support of other family members.

"When I came out to my grandmother, she said, 'it's about time,' and my brother now calls me his brother."

When Trey went for top surgery at Hartford Hospital August 21, 2018, he woke up from the surgery surrounded by his parents and eight of his best friends cheering him on.
"It was awesome," he said. "It was the best feeling in the world to see so many people I love supporting me. There's even a video of it on my YouTube channel."

Trey also credits the support he has received for the past two years from his DDS support staff, Liz Diaz, who has assisted with medical appointments, tremendous paperwork, moral support and fun stuff.

"He was always very clear about what he wanted," said Liz. "He was open about what he needed and what he wanted to do. What I most noted about Trey was before his surgery, he would walk head down, with arms covering his chest. But now, it's head up, chest out, and arms down. He's not guarded now."

Trey said that most of the transition has now occurred. He had to see a psychiatrist for a year, begin taking testosterone which will continue for the rest of his life, and then possibly other surgeries. He is now beginning to grow a mustache and is waiting for a full beard to materialize.

Trey maintains an active life and it is finally a life he said he is enjoying. He works with a cleaning crew cleaning offices, loves all types of sports and going to basketball games, and hanging out with his friends.

"I really like to draw. Drawing is relaxing," said Trey flipping through one of his sketch pads that he carries with him everywhere. "All of the boys I drew in here are visions of me and who I want to be."

Trey has also found support and friends through the Rainbow Support Group for people with ID at the New Haven Pride Center. He also attends a separate transgender support group there.

For now, Trey is enjoying the moment and working on his career and doing all of the routine things a 32 year old man would want to do.

"I want to go for a better job, and work with others to open a residence for LGBTQ kids who are homeless," said Trey who demonstrates the same high level of enthusiasm for his other interests that he once directed toward his transition, "but I was waiting to get my new identification and have all of this behind me."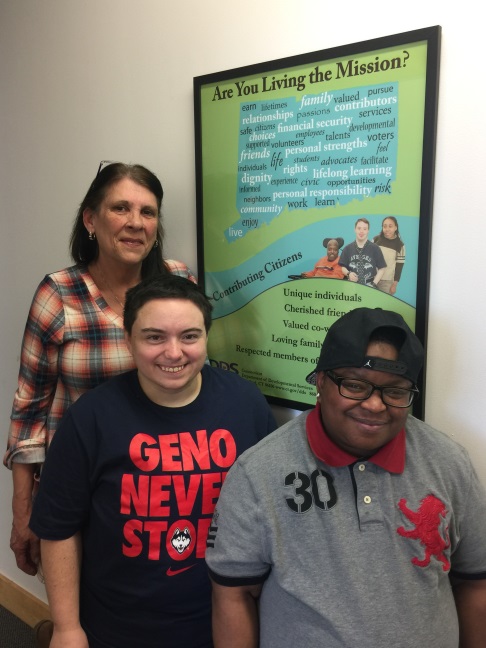 Trey Barnes hanging out with his buddy JJ Reiff and DDS staff Liz Diaz
Written By: John D. Allen, Helpline South Region, New Haven and Trey Barnes