Success Stories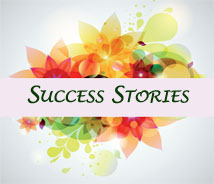 Living Life
Trey Barnes Success Story - A New Man
Carol Grabbe Direct Hire Success Story
Annalee Hughes Success Story
Shawntay, Margaret, Brian and Kazuyo's Happily Ever After
Greg Washington - Art Works!
Kevin Arce - My life is but one part of the story of the world. . .
Joyce Rivers, A Wonderful Inspiration To Us All!
Joe Edelstein - Joe Edelstein, also known as "Jukebox Joe", shares his abilities with his community.
Genna Lewis at the Best Buddies Conference
Keep Walking and Exercising to be Fit
Varian S. - Apartment Success Story
A Day with Ken and Cindy Dubey - Time to Shop
"Got A Job!"
Raeqwan Jordan - Makes His Life Happen!
Karen Armington - One Job is Not Enough When You Love to Work!
Jimmy Dzurnak - Enjoys Doing Real Work for Real Pay!
Kelly Bond - Kelly Bond follows her passion in getting the job she has always wanted
Haley Marks - Haley is living her life and contributing to her community of Greenwich. Being competitively employed has made a difference to both Haley and the people with whom she works.
Richard Goodenough and the Thomaston Savings Bank
Nick Sinacori - Employment Success Story
Varian S. - Employment Success Story